Head's Welcome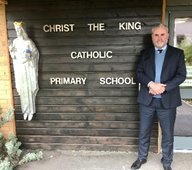 7th September 2020
Welcome from the Head of School
As a practising and committed Catholic it is an honour to serve as Head of School within a living Christian community. I want you to be assured I feel privileged to be working with you and your children so I will be investing all my energies into the school's success. The main priority for this year will be to build on the progress already achieved in the last two years but to continue to raise standards with the support of our partnerhip with St Osmund's Catholic Primary School in Salisbury. It is an exciting time in the school's history as we look forward to sharing best practice and serving your children and you in the best possible way.
I believe this school is special and distinctive. In a staff meeting recently, colleagues described the ethos of Christ the King using words such as 'friendly', 'welcoming' and 'respectful'. They described the purpose of their work as developing 'determined and confident children who look to God and faith throughout life's journey'. Above all, I recognise your children are your most precious possession and I want you to be reassured of our commitment to success. As one colleague described our ethos last week 'to be the best educators we can be'. I am also sure our working together as school and parents will further enhance the outcomes your child can achieve. I'm looking forward to the year ahead!
Peter Eccles
Head of School
**************************
Welcome from the Executive Headteacher
It is with great pleasure that this year I begin work as the Executive Headteacher of Christ the King Catholic Primary School. It is an honour to lead and serve our Catholic community as we look to grow the partnership between our two schools - Christ the King, Amesbury, and St Osmund's in Salisbury.
Mr Eccles is the Head of School here at Christ the King and will be visible to you on a daily basis, but as Executive Headteacher it is my responsibility to oversee and develop the work and leadership at both schools. You will see me both here and at St Osmund's, working approximately 2/3 days per week at each school.
To tell you a little about myself - I am an experienced headteacher entering my 5th year as head at St Osmund's. Prior to this, I have served as headteacher, deputy headteacher and leader of Teaching and Learning at various Catholic schools in the north of England. As a parent of two children in Catholic education, I understand the balance between school life and that of being a parent and I am committed to strengthening the partnership between us. When we work in harmony with each other, our children will flourish.
I believe in the highest possible standards of achievement and I am determined that the very best can be achieved by our teachers, children and therefore Christ the King school. Together with our exciting new leadership team, and an unwavering belief that all children can achieve (John 10:10), I know we can achieve great things.
Psalm 133:1
Behold how good and pleasant it is when brothers live together in unity!
Mr Sanderson
Executive Headteacher