We are joining the Dunstan Catholic Educational Trust
We are joining the Dunstan Catholic Educational Trust
6 February 2023 (by Sophie Short (SShort))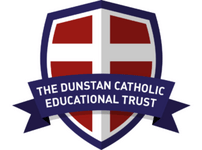 On 1st March 2023, Christ the King Catholic School will join the family of schools already part of The DCET - Dunstan Catholic Educational Trust.
This is an exciting and long awaited development for our school and we are all really excited about the mutual benefits belonging to a trust of schools will provide. Helen Taylor, CEO of The DCET, met with parents and staff for formal consultation earlier in the school year and staff are working earnestly to ensure that there is a smooth transition for all members of our school community.
You can find out more about The DCET by selecting the option on the 'Community' tab of the main menu.